What is Unique About New Culture?
The Wisdom of the Tribe
We have an eclectic yet integrated approach to creating an environment
that allows each person to thrive. We bring in top-notch presenters who share a wide range of tools, techniques, and insights for dealing with all aspects of relationships, sexuality, and self-integration. The result is that our participants have a huge pool of technologies and practices to draw from. Each person is fully "at choice" in any of our events, and each person is free to use the insights and practices that work best for them.
There's Time to Get to Know Each Other
Not just another superficial meet-and-greet, Fall Camp is 5 days long so that there is time for real connections to be made, and real interactions to flow from these connections. Campers help each other to work through issues that may arise, using new tools and techniques where appropriate, with the guidance of our experienced support team.
Only One Workshop at a Time
There is none of the scattered energy that many events have. For most of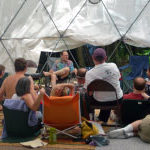 camp, there is one workshop at a time, chosen for its critical value for virtually all campers, led by a nationally known facilitator. Those who choose to go to a workshop will have new skills and experiences shared with most of the other campers, building the context for ongoing relationships and adding to the common context available to all campers. Certain topics may be critical for some people, but not relevant to many others; these will also be offered one at a time, with free time and recreational and connecting activities as alternatives.
Group Practices Supporting Transparency and Understanding
Most of these are created and facilitated by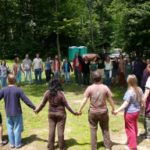 campers. We have morning whole group check-ins, afternoon community circles, and one on one support whenever you need it. And of course, everything is optional– you are fully "at choice" about your attendance and/or participation in any activity or workshop.
The Goals:
Making new connections. Deepening our existing relationships. Gaining relationship skills and personal empowerment techniques. Building our tribe that stays with us all year long. Many participants can expect to wind up connected with other participants on an ongoing basis, through e-lists, frequent gatherings, personal relationships, and joint projects.